Born in Ishigaki Island
Euglena
let it penetrate
For further regional development of Okinawa

New regional development
"Nuchigusui Project" started
沖縄県八重山諸島にある石垣島は、ユーグレナ社にとって特別な土地だ。「石垣島ユーグレナ」の名の通り、ユーグレナ社で扱う微細藻類ユーグレナの生産地であり、世界で初めて食用屋外大量培養技術を確立したのも石垣島である。また、2013年からグループ会社となった八重山殖産の拠点でもある。そのため、ユーグレナ社はこれまでも石垣島でさまざまな地域貢献活動をしてきた。
「みーふぁいゆープロジェクト」と称する活動では、地元のスポーツや教育を支援。バスケットボールチーム・琉球ゴールデンキングスへのスポンサー就任や、小学校での理科実験室の開催などの活動をするなか、2020年3月、新たなプロジェクトが発足した。それが「ユーグレナ石垣ぬちぐすいプロジェクト」だ。
I want to contribute to Ishigaki Island through business
Appealing the charm of local specialty products with such a feeling
"Nuchigusui" is an Okinawan word that means "enjoying food and nature, making your mind and body healthy". ``Nuchi'' means life, and ``gusui'' means medicine.

This project is an attempt to incorporate Ishigaki Euglena, which is so nutritious that it can be used as a medicine for life, into souvenirs from Ishigaki Island and promote it to tourists.
While the "Mi-Fai-U Project", which has been a promotion activity in the Ishigaki area for a long time, has focused on supporting local activities, this project aims to contribute to the local community through business. The goal of the project is to make Ishigaki Island Euglena and Yaeyama Chlorella widely recognized as health ingredients produced in Okinawa, both inside and outside the prefecture, and to have people actually eat products that use them and become healthy. is.
Kinjo was appointed to be in charge of this "Nuchigusui Project".
"I joined Yaeyama Shokusan, a group company, in 2015. After that, I was seconded to Euglena Co., Ltd., and from 2019 I was in charge of sales of Ishigakijima Euglena and Yaeyama Chlorella. Mainly restaurants on the island. We were proposing to develop a menu using Our raw materials, but there was talk within the company about whether this could be linked to regional development, so Euglena explained the features of the raw materials, The project was launched in March 2020 in the form of product planning and sales that incorporate them on the customer side," says Kinjo.
コロナ禍とともに始まった
プロジェクト第一弾
営業活動がほとんど中止に
The first product planned for the project was Monaka, a gelato made with Euglena from Ishigaki Island and Yaeyama Chlorella. After that, he planned to release alcoholic beverages such as beer and awamori, and soba noodles one after another.
However, as soon as the first product was announced, the new coronavirus was prevalent. All of the various activities that Kinjo had planned have come to a halt.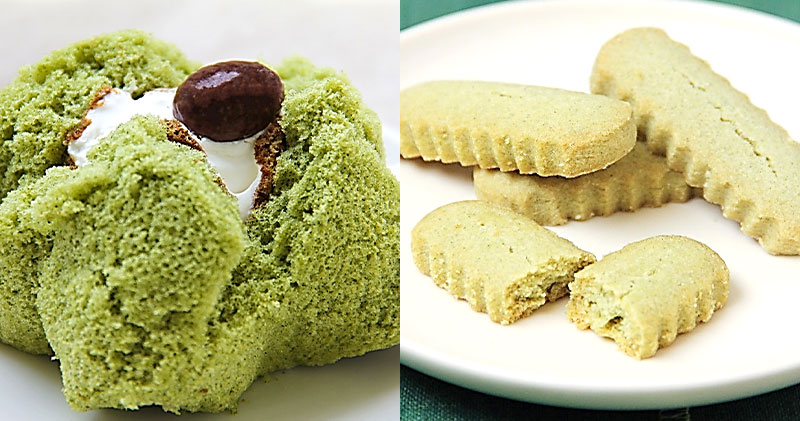 "Even if you want to open a business, every store and company is full of dealing with corona. I was hesitant to suggest new product development when it was already a difficult situation. , Of course, just like normal communication, face-to-face conversations are very important in Okinawa, so online sales were quite difficult."
The spread of online communication has spread rapidly due to the corona crisis, but there are still many people who place importance on face-to-face communication. Especially in Okinawa, there is also a regional characteristic that places great importance on connections with people. Since vertical and horizontal relationships lead to ease of local business, Kinjo was also helped by such regional characteristics in many cases, so it was a big loss that face-to-face sales were not possible during the corona crisis.
"Even if people know the name of Euglena, their features and selling points are not known at all. Otherwise, it would be difficult, and that was the hardest part," recalls Kinjo.
I want to reach more people
Expansion from Ishigaki Island to all Okinawa islands
The Nuchigusui Project was launched for the regional development of Ishigaki Island, but in 2021, the target was expanded to all of Okinawa Prefecture, and the second release was announced.
"Because of the coronavirus, the number of tourists to Ishigaki Island, as well as to Okinawa Prefecture, has plummeted. Therefore, we decided to expand the target in order to contribute to regional development not only on the island but all over Okinawa."
Ishigaki Island has a population of about 50,000 and had about 1.3 million tourists before the coronavirus. If you take a look at the main island of Okinawa, the number of tourists is about 10 million. The aim was to increase the number of business targets even a little by expanding the target to the main island of Okinawa.
Sales activities were still difficult due to the corona crisis, but he said that he was able to find a company that listened to him little by little, following introductions from existing customers.
"Because it is an area where connections are important, it was a Euglena to have customers who positively considered the project as a result of the introduction. They say, 'This material will become more popular in the future, so I want to do it now.'"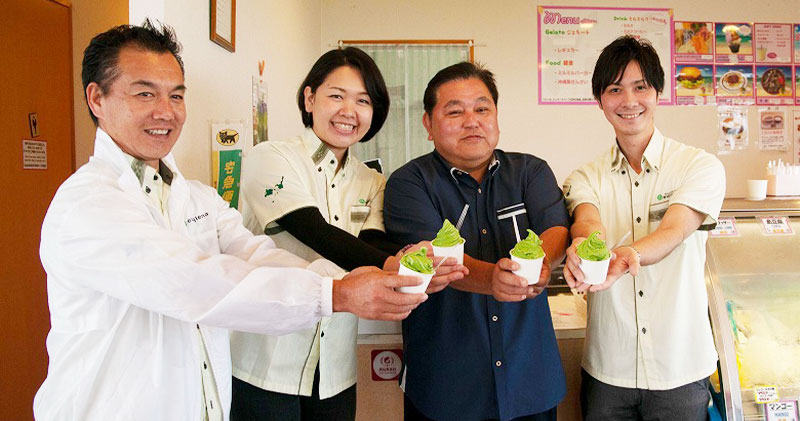 Kinjou's parents are both from Okinawa Prefecture, and her mother is from Ishigaki Island. Although Kinjo himself grew up in Tokyo, his surname and origins sometimes became the starting point for conversations with locals.
"Okinawa is very easy to Euglena once you put it in the frame of your friends. As a company, it's hard to appeal to them, but I was encouraged by their positivity when planning products, saying, 'I'll be busy again after the coronavirus is over, so now is the time to prepare.'"
Due to Kinjo's dedicated sales activities, the third volume was released in November 2022. Ishigaki beef hamburgers, Ishigaki island's specialty pineapple "Tida Pine®" juice, and other Ishigaki island brands, collaboration with the local table tennis team "Astida", warabi mochi (bracken-starch dumplings) developed as a souvenir from Ishigaki island, and more. It's the lineup.
Aiming for Ishigaki Island Euglena
To become a presence that supports the health of Okinawans
It was a project that hit a big wall at the beginning, but Kinjou is positive.
"From now on, my goal is to have Euglena and Yaeyama Chlorella from Ishigaki Island widely recognized as special products of Okinawa. Okinawa has a variety of special products such as pineapples, mangoes, and Shikuwasa, and Ishigaki Island Euglena and Yaeyama Chlorella are also one of them. I would like to make it a major presence so that it can be listed as one of them.In the future, it will be broadcast nationwide on variety programs, etc., saying, ``Okinawa citizens are healthy because they eat green foods (Euglena and chlorella)!'' My dream is to let it penetrate to the point of being introduced!"
Euglena may still have the image of being chosen by health-conscious people. However, Kinjou must be able to see the scenery where Euglena is readily available at stores and is always on the dining table. I would like to look forward to the day when the name of Euglena is mentioned by the people of Okinawa on a variety program.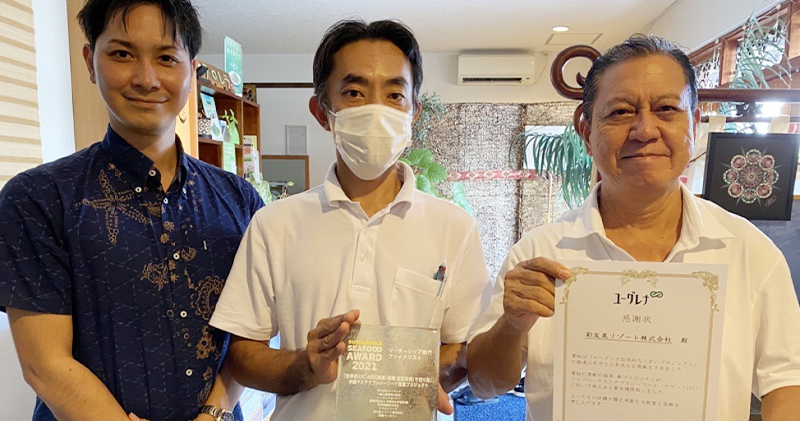 Posted in December 2022
Euglena Data
~Euglena Ishigaki Nuchigusui Project~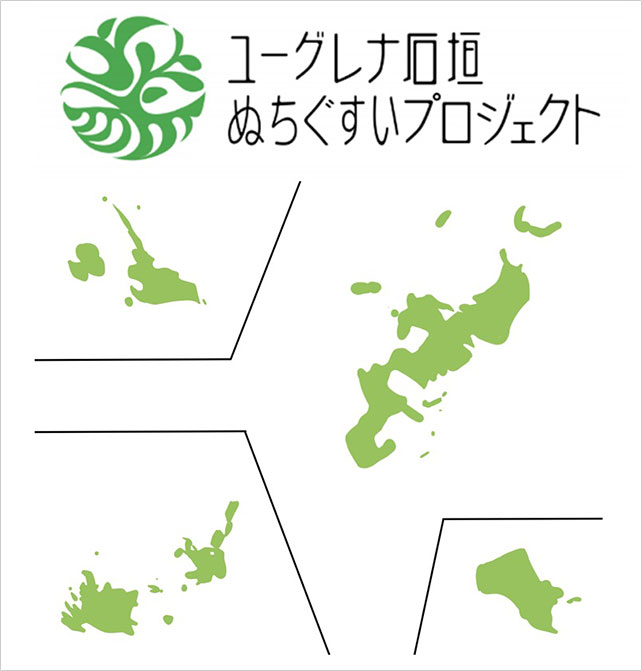 Character
Euglena Healthcare Company
Material/Overseas Division
Sustainable Ishigaki/Okinawa Business Promotion Division Yuto Kaneshiro

In October 2018, he was seconded from Yaeyama Shokusan.
Assumed his current position in January 2022 after working in the Special Missions Office and the Materials and Overseas Sales Section 2 of the Sales Department.
"We are working to spread Euglena from Ishigaki Island, Okinawa, which can be said to be the hometown of our Euglena and Chlorella materials.
"Speaking of Euglena, Okinawa! I will do my best to make everyone aware of it. "