next generation biodiesel
Disseminate fuel.
First introduction and holding of events for general consumers

Spreading next-generation biodiesel fuel
take the first step
In April 2020, the next-generation biodiesel fuel "SUSTEO" manufactured and sold by Euglena Co., Ltd. began to be introduced on the Keikyu Group's Kawasaki Tsurumi Rinko Bus Co., Ltd. route bus. A year later, a sales event for the general public called "Sustainable Station by Euglena" was finally held, attracting the attention of many media outlets.
Our next-generation biodiesel fuel SUSTEO is made from highly sustainable biomass raw materials such as used cooking oil and oil extracted from microalgae Euglena that do not cause problems such as competition with food or deforestation. As a next-generation fuel, expectations are rising in recent years.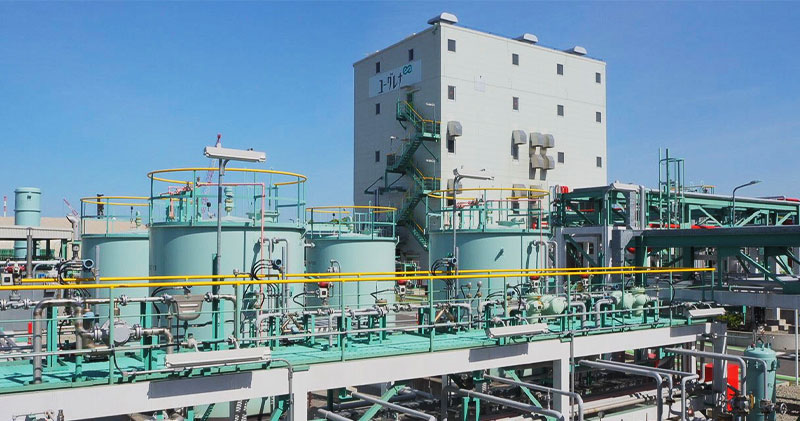 Manufacturing and development of SUSTEO started in October 2018. Our first bio-jet/diesel fuel production demonstration plant in Japan (hereinafter referred to as the "demonstration plant") was established in the Keihin coastal area of Tsurumi-ku, Yokohama.
At the same time, the company started to create a sales system for when the biofuel was completed. Kaminaga joined Euglena in August 2019.
"After graduating from graduate school, I joined the Maritime Self-Defense Force. There, I was in charge of fuel management as an engineer on a destroyer. At that time, I learned that Our biofuel division."
Having majored in chemistry in graduate school, he pushed Kaminaga's back. He was convinced that his power would be useful here.
I didn't even look at it at first
Next-generation biodiesel fuel
Striving to earn the trust of customers
When Kaminaga joined the company, the Tsurumi demonstration plant was already in operation, but development was running into difficulties. However, of course, we must develop new customers so that we can sell the next-generation biodiesel fuel as soon as it is completed. It is said that the business struggled considerably while the product was incomplete.
"By the summer of 2019, the image of biofuel in society was completely different from what it is today. Biofuel is still not well-known, and no matter how carefully we explain it, is it really safe to put it in the car? I was often looked upon with suspicion."
Conventional fuel has many problems such as engine trouble. Perhaps because this image has become established, the reaction from customers was harsh.
However, even so, Kaminaga said, "Our next-generation biodiesel fuel has exactly the same molecular structure as petroleum-derived light oil, so it does not put a load on the engines of general vehicles." continued to negotiate.
"It is only natural that people won't believe me if I just explain it. That is why, using the performance test results for the next-generation biodiesel fuel that Isuzu had been conducting up until then, we steadily built up sales activities. "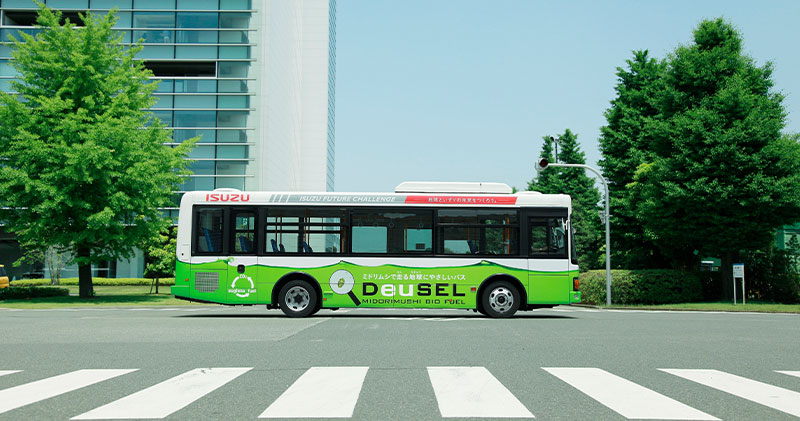 In December 2018, Isuzu Motors Limited has already started a demonstration run of biodiesel fuel made from microalgae Euglena on a shuttle bus at the Fujisawa Plant. The fact that performance tests were conducted by a major automobile company had an impact.
"Isuzu has also provided support for property evaluation, etc., and we have gradually increased the number of customers who say that they will first use a small amount as a demonstration stage, and if there are no problems, they will consider increasing the amount of use and introducing it to other mobility. did"
Although it was an uphill road, Kaminaga's only motivation was his passion to popularize biofuels in Japan.
In the spring of 2020, the next-generation biodiesel fuel SUSTEO was finally completed.
However, when it came time to develop sales and PR activities, social changes caused by the new coronavirus occurred.
started with social turmoil
Introduction of next-generation biodiesel fuel
Many difficulties in PR activities
Finally, the next-generation biodiesel fuel "SUSTEO" was completed and ready to be supplied. However, companies that were planning to introduce it have responded one after another that there is no prospect of introducing it due to the influence of Corona.
"Amidst all this, the Keikyu Group's Kawasaki Tsurumi Rinko Bus was the first to get involved in the introduction. I was really grateful that he said this in the midst of the severe bus service situation due to the coronavirus," Kaminaga recalls.
At that time, social restrictions were set to prevent the spread of the new coronavirus. For that reason, face-to-face events and PR activities had to be voluntarily restrained, and Kaminaga was worried about whether to give up making a big announcement about the first introduction of next-generation biodiesel fuel.
"I was worried that even if I announced the release of the first supply of next-generation biodiesel fuel in the news of the new coronavirus every day, the PR effect would be weak. Around that time, I was thinking about promoting it again, but I was encouraged by the people from Kawasaki Tsurumi Rinko Bus to say let's release it, and I was able to make up my mind."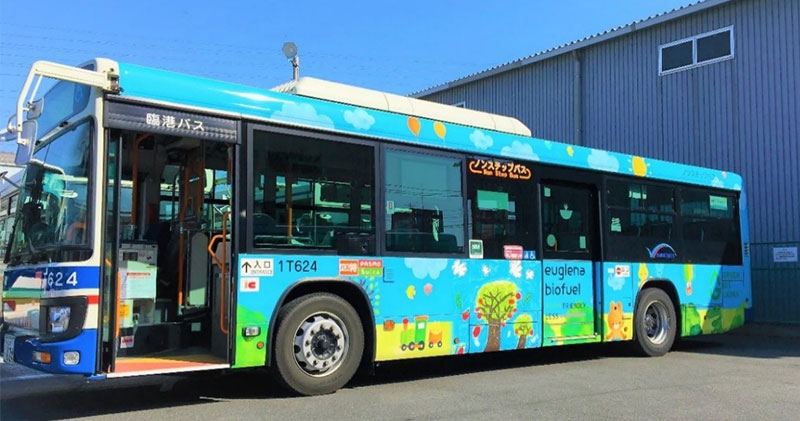 As a result, this release received a very positive response. It seems that the fact that it is a next-generation biodiesel fuel that has high expectations for the future, and that it is a next-generation biodiesel fuel that has high expectations for the future, and that it is a bright news in the midst of all the dark topics about the spread of the new coronavirus.
"The TV station also came to interview us, and they said they were happy to release it. He told me with a smile.
The Kawasaki Tsurumi Rinko Bus continues to operate on next-generation biodiesel fuel SUSTEO.
Long-awaited sales for general consumers started
First face-to-face event
In April 2021, exactly one year after the first introduction to the Kawasaki Tsurumi Rinko Bus, it was decided to hold the long-awaited event for general consumers "Sustainable Station by Euglena" at a gas station in Tokyo.
For three days only from April 9th (Friday) to April 11th (Sunday), 2021, the next-generation biodiesel fuel "SUSTEO" will be sold to general consumers for the first time at Life Hakudo Co., Ltd.'s Self Katsushika No. 6 store. It is an event to sell to.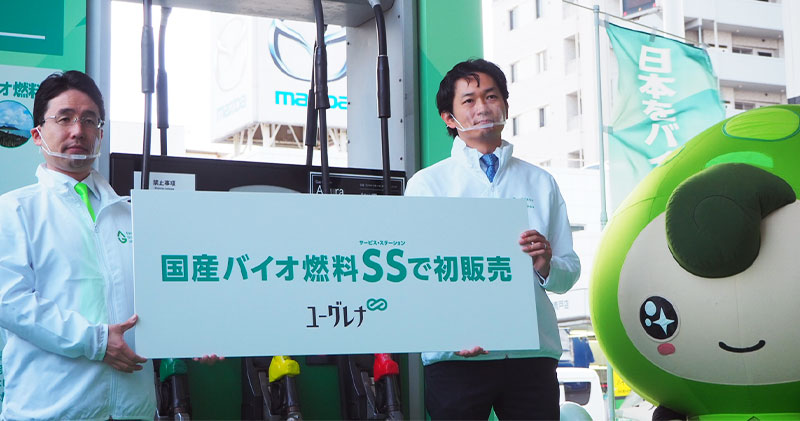 Nishida was in charge of this event, just six months after he was transferred to the Biofuel Division.
Until then, Nishida was in charge of product planning and sales at Euglena. For Nishida, who was originally in the food and cosmetics business, biofuel was a different field.
"I changed my job to Euglena because I wanted to take on new challenges that were different from what I had done before. When I saw the internal recruitment for sales positions, I thought, 'This is it!'" Nishida laughs.
"Since the next-generation biodiesel fuel has been completed and the production volume has stabilized, I have been thinking about holding a sales event for the general public for some time. It was difficult to find a company to work with.At that time, I met Life Hakudo.They understood our new initiative and worked together to make the event a success. I will be able to hold an event at
However, for Nishida, who had just been transferred, preparing for the event was a series of hardships.
"Since everything was new to me, preparations started in a fumbling state. In order to sell fuel, it was necessary to proceed safely according to various rules, including firefighting. There were many things that our department could not do on its own, so we asked for the cooperation of our colleagues in the company and gradually established a system."
And on the day of the event, Nishida will be surprised.
From early in the morning, many journalists, including TV, newspapers, and radio, came to cover the event. In addition, he said he received a lot of phone calls.
"By being featured in a lot of media, I really felt that the general public was also aware of biofuels. I think it was a big impact to be able to convey through the media that you can actually use it for your own car."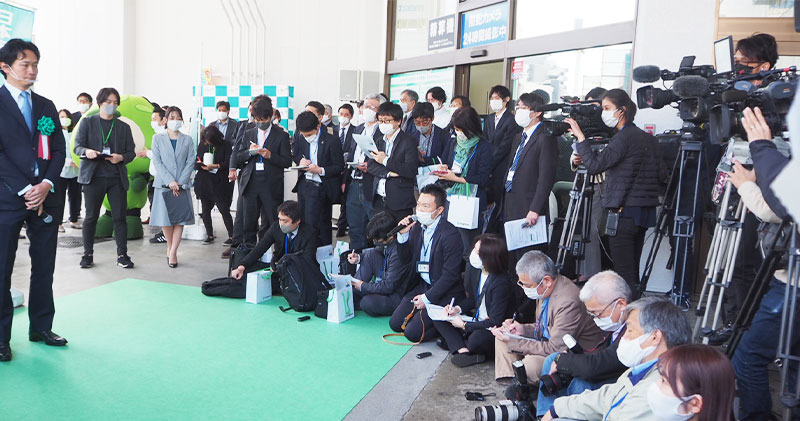 Furthermore, Nishida said that there was something that left an impression on him. "Early in the morning on the second day of the event, a man came to fill the biofuel, but when I looked at the number, I was surprised to see that it was quite far away, so I asked him. I was wondering if this was the case, but he said that he came all the way after seeing the news about this event.At the same time as I realized the power of the media, I'm sure this person will convey the topic of biofuel to other people, and I'm sure it will be an environment. I had an image in my mind of biofuels being gradually recognized as one of the solutions to the problem."
Utilization for land, sea, and air mobility
Making biofuels a natural choice
Our next-generation biodiesel fuel "SUSTEO" has taken the first step toward widespread use. Kaminaga and Nishida, who are responsible for this, talk about the future prospects as follows.
"We have already experienced the introduction of Our next-generation biofuel for all types of mobility, including land, sea, and air. It is necessary to continue to secure the reliability of being able to stably supply biofuels with a guarantee of Euglena. I think the most important thing is to have people trust that everything will be fine," explains Kaminaga.
Nishida says he wants to convey the value of biofuel once again.
"In order for biofuels to become an option among many environmental measures, it is essential that they be available when you want them. Europe is already spreading biofuels, and Japan is quickly doing so. To that end, what we can do is steadily accumulate examples of introduction.To do that, it is necessary to accurately communicate the added value of biofuels. It would be great if we could communicate that environmental measures are not something that companies and the government should do alone, but that they should also think about as individual choices."
Their work will surely contribute to the spread of biofuels in Japan. I have high hopes for the biofuel business in the future.
Posted in October 2022
Euglena Data
-Our next-generation biodiesel fuel "SUSTEO" -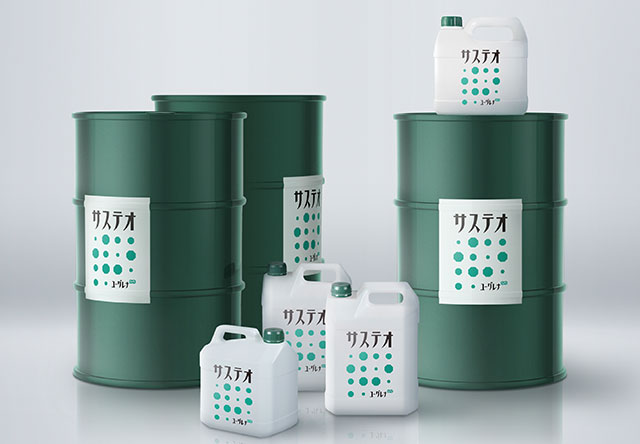 Character
エネルギーカンパニー
実証製造部神永 将司

Joined in August 2019.
"In the future, we will continue to try to introduce it to various mobility, and we need to scale up logistics and quality assurance for commercialization. Among them, we will continue to deliver safe and secure biofuel By 2025, we would like to accumulate a track record and build trust so that we can say that the use of biofuels is a matter of course in the true sense of the word."
Energy company
Biofuel Division Sales & Trade Section Yuu Nishida

Joined in January 2016.
After working in the Cosmetics Development Team and the Distribution Sales Department, joined the Biofuel Business Department in September 2020.
"'Energy measures', 'decarbonization', 'carbon neutrality'... I feel that it is a distant world, but I feel that it is important for each person to see it as their own.
Although we are weak, we will continue to do what we can do one by one for a sustainable future. "