Japan's first
"Virtual only
Hold a general meeting of shareholders.
From the "hybrid type virtual shareholder meeting",
To "Virtual Only General Meeting of Shareholders"

ユーグレナ社が
バーチャルオンリー株主総会の
日本初の事例になる
In June 2021, the ``Law for Partial Revision of the Industrial Competitiveness Enhancement Act, etc.'' was passed and enacted, and it will be possible to hold general shareholders' meetings without a fixed location, so-called virtual-only general shareholders' meetings, for listed companies. It has become possible. Therefore, despite the fact that preparations had already begun for the extraordinary general meeting of shareholders scheduled to be held in August of the same year in a hybrid format, Euglena suddenly changed its policy to "hold it virtual only."
Sonoda explains why he insisted on holding a virtual-only general meeting of shareholders despite the sudden change.
"At first, I was worried about the lack of precedent, and in fact, I had the feeling that it would be fine if someone implemented it first.
Even so, there was Our that encourages challenges. Also, I knew that my colleagues, including those outside the company, would be willing to support and cooperate with me.
Not only Mr. Izumo, but also the directors agreed with this challenge. In the future, more companies will hold virtual-only general meetings of shareholders, and if that is the case, they said that we should take the lead in doing so. "
However, according to Sonoda, the preparations within the limited time were more difficult than expected. This is because we were preparing for both virtual-only and hybrid models just in case.
「バーチャルオンリー型での開催を決めてはいたものの、開催のためには、経産省と法務省に対して申請書を提出し、経済産業大臣及び法務大臣の『確認』を受ける必要がありました。スケジュール的にギリギリだったことから、招集通知とシナリオについてはバーチャルオンリー型とハイブリッド型、両方の準備をし、招集通知校了前に『確認書』をいただければバーチャルオンリー型で、間に合わなければハイブリッド型でいく、としていました。この『2パターンの準備を同時に行う』というのが大変だったことの一つです。
幸い、経産省のご担当者をはじめ関係各所のスピーディかつ丁寧なフォローのおかげで、想定よりも申請準備はスムーズに進み、招集通知校了直前に『確認書』を受領できましたので、その時点でバーチャルオンリー型に舵を切ることができたのです。」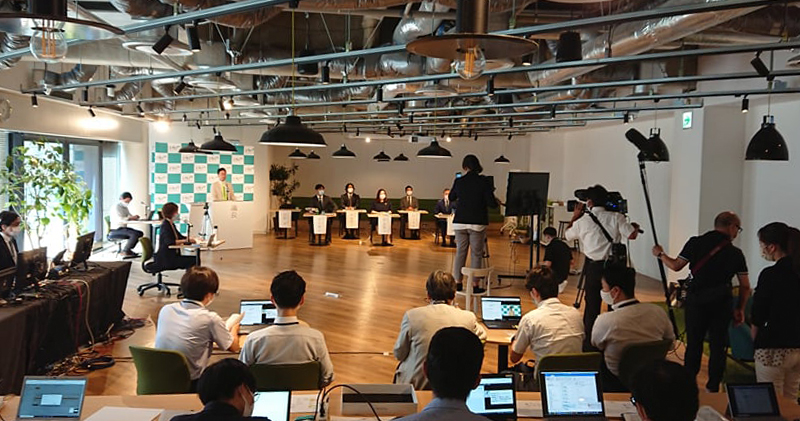 バーチャルオンリー型での開催に必要不可欠な、経済産業大臣及び法務大臣の『確認』を受けるために、総会の運営において問題がないかという観点から子細なチェックが行われた。通信障害に対するバックアップの準備や、インターネットを使用できない株主への配慮、責任者の配置、マニュアル作成など、多数の項目を満たす必要があった。
ユーグレナ社では以前より社内のメイン回線が切れたときのためのサブ回線があったが、「さらに念には念を」と、追加でサブ回線も切れたときのための回線も用意し、通信障害については特に入念に準備が行われた。
「また、インターネットを使用できない株主さまのフォローについても工夫しました。インターネットを使用できないということは、バーチャルオンリー型の株主総会では当日の議決権行使はできないということですので、まずは招集通知で書面による事前の議決権行使を促しました。そのうえで、当日の音声をリアルタイムで聴いていただけるよう電話会議システムを準備し、また、田町オフィスの会議室でこちらが準備したPCを使っていただける体制も整えていました。いずれも事前申し込みとしたところ、電話会議システムの利用は1名、会議室での出席希望は申し込みがありませんでしたが、準備はしておいて良かったと思っています。」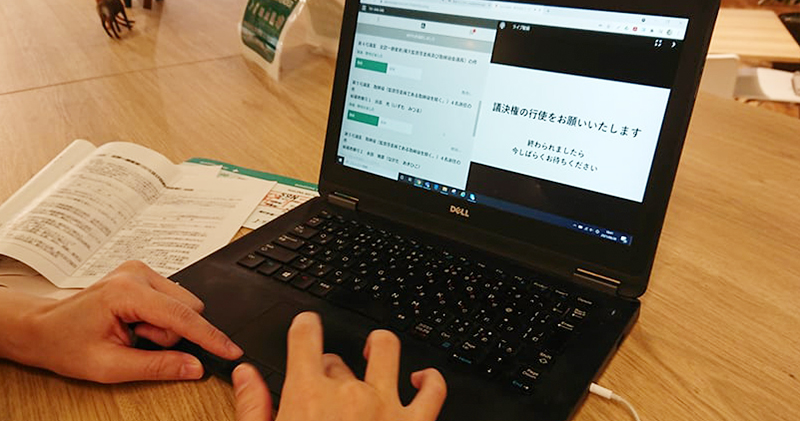 客観性・透明性・信頼性の高い
株主総会にするために
デメリットをなくす運営を徹底した
リアル総会とバーチャル総会の大きな違いの一つに、質問対応がある。
「会場のあるこれまでの株主総会では、質問をする際は挙手をして、議長が許可した場合のみ発言が可能となり、その内容は会場全体で共有されます。一方、バーチャル総会では、ハイブリッド型でもバーチャルオンリー型でも、オンラインで出席している株主さまは視聴画面から自由に質問が可能です。代わりに、他の株主さまがどのような質問をしているのかはわからないことが多く、ユーグレナ社のバーチャル総会も同様です。
このことから、特にバーチャルオンリー型の株主総会では、企業側が不都合な意見や質問を恣意的に排除することで総会の客観性・透明性・信頼性を損なうという弊害、いわゆるチェリーピッキング問題を伴うといわれています。」
Regarding this issue, in addition to the corporate lawyer, he consulted directly with a specialist lawyer who was involved in the system design of the virtual-only general meeting of shareholders, and worked on meticulous preparations.
"During the preparations, we heard that in the United States, where virtual-only shareholder meetings are becoming more popular, shareholders do not welcome the virtual-only format due to concerns about the cherry-picking problem. decided at an early stage on the policy of ``answering all questions, including those asked in advance,'' so that shareholders can feel at ease, and this is clearly stated in the notice of convocation. We have posted all QA on the Our website, excluding those that are not open to the public, such as those that may violate privacy.
This is the first virtual-only general meeting of shareholders to be held in Japan, so our general meeting of shareholders will determine our impressions of the future. For the sake of other companies that will follow, I wanted to thoroughly clarify possible uncertainties. "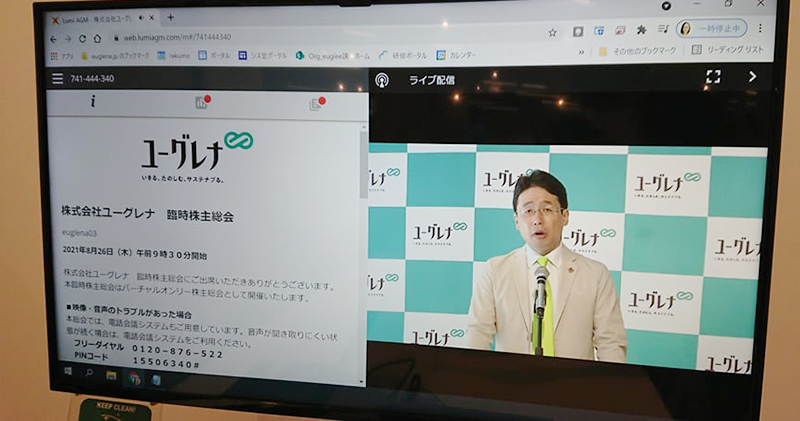 参加した株主の99.5%が
「バーチャルオンリー開催を評価する」
と回答
Japan's first virtual-only shareholders' meeting held by Euglena was successfully completed without any major troubles. After the event, a questionnaire was given to the participating shareholders, and the results were higher than expected.
"After the meeting, we conducted a questionnaire survey of our shareholders, and the response rate was extremely high. About 80% of the shareholders who attended responded. When I saw the result, I was finally able to feel that I was glad that I did it."

"We also know that the attendance rate of shareholders who live outside the Kanto region has increased. I felt the response that many people attended.
The attendance rate of shareholders outside the Kanto region was only 6.4% at the 2019 real general meeting, but 27.3% at the hybrid type in 2020 and 33.8% at this virtual only type, showing a steady increase in attendance from distant locations. I'm here. In particular, the percentage of respondents from Hokkaido and the Kinki region is increasing, and the survey also showed that "I am happy to participate in Japan's first virtual-only general meeting of shareholders. People who could not participate due to distance, old age, work, etc. will be able to participate, and I think this is also one of the SDGs." "
Sonoda talks about the future policy of holding a virtual-only general meeting of shareholders.
"The policy as a company is undecided, but I personally would like to value real communication. In some cases, shareholders
"I was looking forward to meeting President Izumo in person."
"I was talking about participating with a shareholder friend."
I was very grateful to have received such a voice.
On the other hand, as mentioned above, the number of people attending from far away is increasing, and we received a survey response saying, ``Thanks to holding the meeting online, I participated in a general meeting of shareholders for the first time.'' We will continue to hold general meetings of shareholders that satisfy our shareholders while incorporating the above in a well-balanced manner. "
While the company is a Euglena company that always pursues the latest information, Sonoda's stance of continuing to pursue what all shareholders are looking for embodies a Our philosophy that aims to "a state in which our own happiness coexists with the happiness of others."
Posted in September 2022
Euglena Data
-Euglena held Japan's first virtual-only general meeting of shareholders -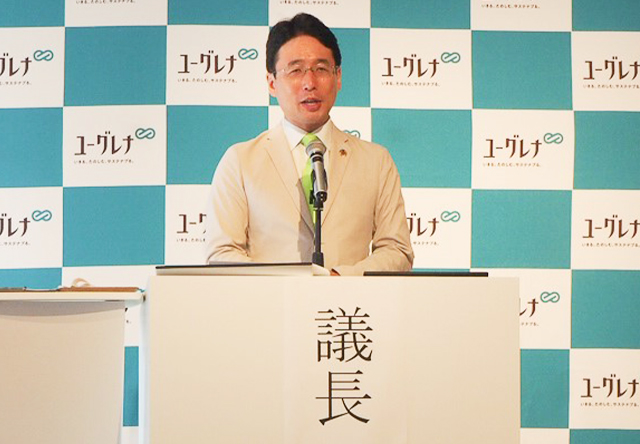 Character
Management Department
euglee section Reiko Sonoda

Joined in January 2014.
After working in the mail order and information system departments, he joined the euglee section in May 2020.
Aiming to improve the engagement of my colleagues, I spend every day cultivating the "Euglena Group-likeness".