ユーグレナと
クロレラで
世界初のASC-MSC藻類
認証を取得せよ。
ユーグレナ・クロレラ原料が、オリンピックの
水産物調達基準の国際認証を取得

One month after joining the company
The world's first certification acquisition project entrusted by the president Izumo
One day in 2017, Izumo, the president, sent an email to Asayama, the chief of the Material Development and Quality Assurance Division.
"I want you to proceed to obtain ASC-MSC seaweed (algae) certification for the first time in the world."
Kanayama, who was in Cc: of the email, became interested and immediately offered to take charge.
"Mr. Asayama, from my previous work experience, no one has done it, and I have the advantage of finding out how to proceed from the beginning. Can you leave me in charge?"
Asayama thought for a while and said:
"... Mr. Kanayama, this is your first big job at Euglena
-Kanayama thought, "It seems like a venture company to be entrusted with the world's first project at this speed," and at the same time, I found it interesting. In my previous job, there were few parts where the law could be changed strictly depending on the type of business, and the type of work was also decided to some extent. Euglena Co., Ltd. with a longing for "a company with great changes".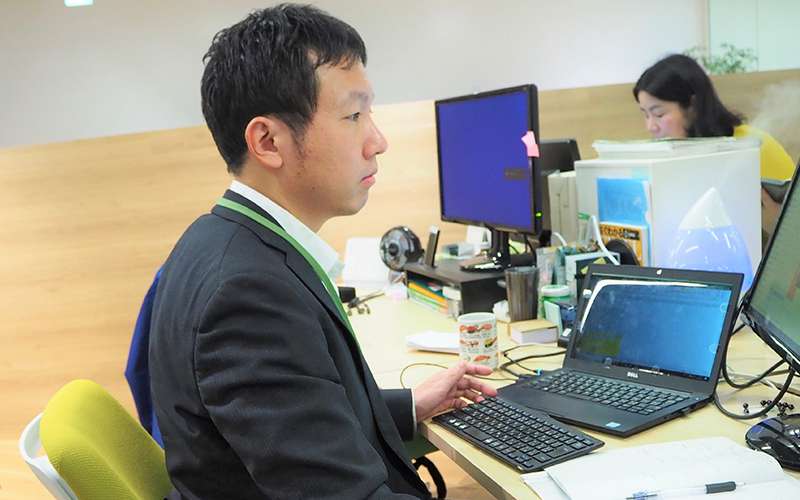 In this way, Kanayama started to acquire ASC-MSC seaweed (algae) certification as the main person in charge.
Collecting information from scratch and
Encounter with friends who cooperate
ASC certification is "an international certification system for marine products produced by responsible aquaculture methods that are environmentally and socially friendly", and MSC certification is "international for marine products caught in sustainable and environmentally friendly fisheries". It's a certification system.
Both ASC certification and MSC certification are internationally recognized certification systems that have been adopted as food procurement standards for the upcoming 2020 Tokyo Olympics and Paralympics, and the past London and Rio Olympics. However, although the number of ASC and MSC acquisitions in Japan has begun to increase recently, it is still small compared to Europe and the United States.
Under such circumstances, Euglena tried to acquire the "ASC-MSC seaweed (algae) certification", which was jointly formulated by ASC and MSC in March 2018. With the establishment of this certification, seaweeds and algae that were not previously subject to ASC and MSC certification can now obtain ASC and MSC certification, and Euglena will take the lead in the world. For the first time, they are trying to obtain "ASC-MSC seaweed (algae) certification".
The ASC-MSC seaweed (algae) certification itself has just come into effect in March 2018.
Kanayama struggled because he was told, "I don't know because I haven't done it," and asked more than a dozen companies and experts to interview him and worked hard to collect information. In addition, we searched for a certification body and asked Amita, who has acquired ASC certification in Japan several times in the past, for certification examination.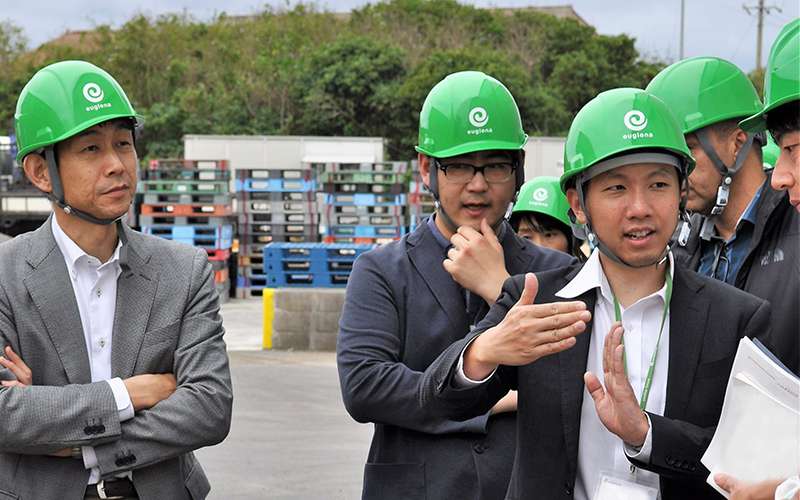 ASC-MSC海藻(藻類)認証取得までには、実際にユーグレナとクロレラを生産する沖縄県石垣島の工場への立ち入り審査が2回実施された。国際的に認められている認証ということもあり、従業員を劣悪な環境で働かせていないか、設備は安全な環境で稼働しているか、廃棄物・排水処理は持続可能な方法で行われているか、地域の方から苦情がないか、など厳密な審査が行われた。
また、世界で初めての認証取得に向けて動いていたこともあり、立ち入り審査に加えて、審査後に何度かASC、MSCから追加でデータの送付依頼があるなど、長い道のりが続いた。グローバル基準のASC-MSC海藻(藻類)認証取得には、会社のルールを海外のものに合わせたり、部分的には認証機関に日本の法令の考え方を理解してもらうべく説明をしたり、粘り強く交渉する必要があったが、金山はユーグレナ社の仲間たちの協力に何度も助けられて前向きに取り組んでいった。
例えば、石垣島の工場でユーグレナとクロレラを培養している生産技術研究所所長の中野は工場の資料データの提出を、生産技術研究所研究員の足立は設備・産業廃棄物に関する資料の準備を、研究員の大園は排水・水の専門家なので関連資料の作成を、そして八重山殖産の総務美差は八重山殖産の仲間の働き方に関する資料作成や労働契約書の準備を、いつも快く手伝ってくれた。
Olympic food procurement standards and international certification system
Obtained "ASC-MSC algae (seaweed) certification"
そして、2019年1月。
金山たちの努力が結実し、このたびユーグレナ社と八重山殖産が生産する石垣島ユーグレナおよびヤエヤマクロレラが、世界で初めて「ASC-MSC 海藻(藻類)認証」を取得した。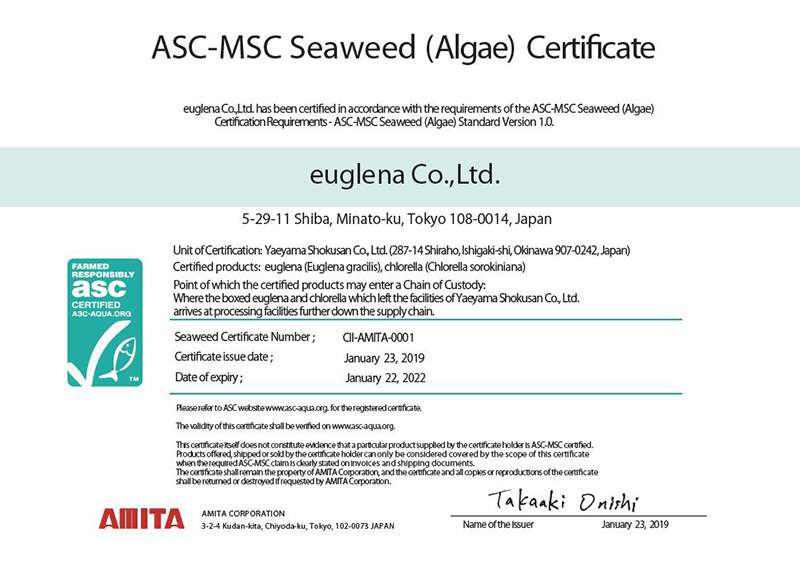 金山は、「沖縄県石垣島の美しい自然の中で育てたユーグレナ原料とクロレラ原料を、日本のみならず海外のお客さまにも安心して召し上がっていただきたい」とキラキラした目で話す。
The acquisition of "ASC-MSC seaweed (algae) certification" was Euglena 's management philosophy of "health for people and the earth."

Posted in January 2019
Euglena Data
-Meet the Olympic sustainability-friendly marine product procurement standards
What is the difference between ASC certification and MSC certification? ~

Both are environmentally and socially friendly, sustainable and responsible.
It is an international certification system for produced marine products,
The difference is that the target is aquaculture products (=) ASC certification) Or natural marine products (= MSC certification) Or
Character
Research and Development Department
Material Development / Quality Assurance Section Manager Hiroki Kanayama

Joined the company in April 2017. Since joining the company, he has been involved in quality assurance of Our Currently, while focusing on food quality assurance work, he is expanding his range of work to product development support and sales support work by utilizing his knowledge.

"I am very pleased to be the first in the world to obtain the ASC-MSC seaweed (algae) certification, which has been adopted as the procurement standard for marine products at the Olympic Games. I will continue to do my best to keep people and the earth healthy!"