Using Euglena as fodder
Raise Hinai chicken.
Development of "Mitori" that is particular about the taste of meat and fat

ユーグレナで国産の飼料をつくりたい
「微細藻類ユーグレナを使って、農業や畜産業の助けになるような国産の飼料や肥料がつくりたい」
そんな思いを持って、渡邉翔太は2014年4月に当社に入社した。
渡邉は大学院時代からユーグレナの飼料や肥料分野での可能性に着目しており、大学院修士1年時には指導教授を説得して、在籍していた大学と当社との共同研究も立ち上げていた。入社後は新卒研修が終わる7月に研究企画課に配属され、ユーグレナの培養方法、飼料としての有用性などの研究に携わるようになる。
Branded livestock from all over Japan
"Hinai Jidori" I met while investigating
渡邉がユーグレナの飼料を開発するにあたってまず考えたのが、どのような家畜にユーグレナを食べてもらうのが良いのかということである。家畜を選ぶ際に重視したのは「肉質や栄養素などに関する基礎的な研究データがそろっていること」「ユーグレナの給餌が肉質や栄養素などに好影響をもたらす可能性があること」「ブランド化できる(価格面で市場競争力を持てる)こと」の3点だった。
Based on these, as a result of investigating livestock in various parts of Japan, mainly branded livestock, it was "Hinai Jidori" that was thought to "match the conditions best". "Hinai Jidori" is a well-known local chicken brand that represents Japan, and in addition to the umami and popularity of meat, it also has basic research data on meat quality and nutrients to support the umami of meat.
「比内地鶏にユーグレナを食べてもらうことができれば、比内地鶏の脂の色味や肉質や栄養素に良い影響を与え、ユーグレナの飼料としての価値を示せるかもしれない」
With that in mind, Watanabe started joint research in November 2015 with the cooperation of the Akita Prefectural Livestock Experiment Station, which is engaged in research on the meat quality and nutrients of Hinai chickens, in order to promote research on Hinai chickens. Then, in April 2016, we launched a joint research with Oribayashi Farm Co., Ltd. to confirm whether the data obtained at the test site can be reproduced in the field, and conducted a demonstration test.
Success after overcoming the wall
研究を始めた渡邉を悩ませたのが、比内地鶏の好みに合わせ飼料を配合しなければならないという点だった。比内地鶏の飼料にユーグレナやクロレラの粉末を配合するのだが、比内地鶏は粉末よりも粒状の飼料を好む傾向があり、好みが合わないと飼料を食べる量が減り、また栄養のバランスが崩れても良い肉質には仕上がらない。
「栄養豊富なユーグレナやクロレラをなるべく多く食べてもらいたいが、配合割合によっては食が細ってしまい、最適な肉質にならない」
比内地鶏の飼料の摂餌行動を観察し、ユーグレナやクロレラの配合割合や給餌方法を調整する日々が続いた。
The breakthrough in solving the problem was the voice of livestock farmers who faced Hinai chickens on site. Watanabe created a feed that suits the tastes of Hinai chickens, not only from the data obtained from the research results, but also from the abundant knowledge and awareness of livestock farmers. As a result, research data was confirmed that "the color of fat changes" and "the components involved in umami improve" in Hinai chickens that ate the feed produced by trial and error with livestock farmers.
「ユーグレナを食べると、比内地鶏の特徴である脂身の色味が濃く、肉質のうまみが強くなる」
さっそく渡邉が開発した飼料で育てた比内地鶏を畜産農家やレストランのシェフに試食してもらったところ、皆その肉質の変化に驚いた様子だった。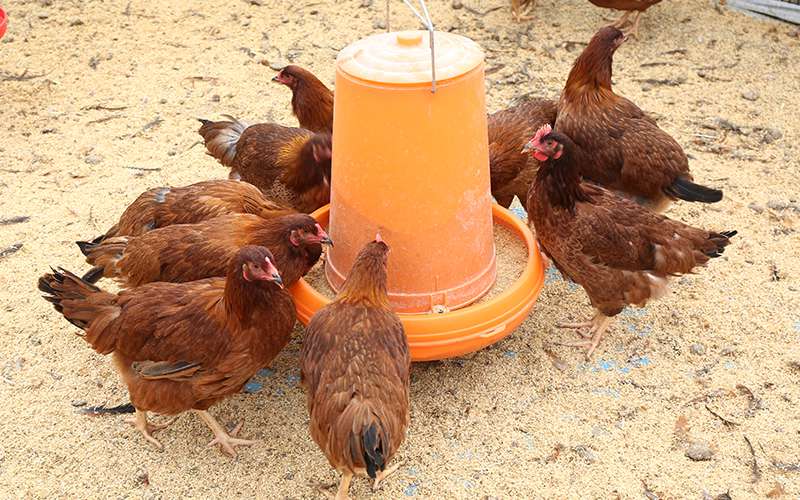 To offer "Mitori" at a restaurant
In January 2018, the feed research project was adopted as a research grant project in Akita Prefecture, "Local Innovation Induction Promotion Project," and through the expansion and deepening of partnerships, the effect of improving meat quality by objective and statistical methods was achieved. We proceeded with the study and establishment of a production method for Hinai chicken.
In this way, Euglena chickens raised on feed containing Euglena and chlorella was green, and Watanabe thought.
"I want to offer" Mitori "at a restaurant where you can brand" Mitori "together."
Barnibarbi Co., Ltd. (hereinafter referred to as Barnibarbi), which operates restaurants in Tokyo and Kansai, responded to such thoughts.
From June 2018, it will be offered as a special menu at 5 stores in Barnibarbi's Tokyo. And the provision of a special menu using "Mitori" was well received, as it was featured in various media.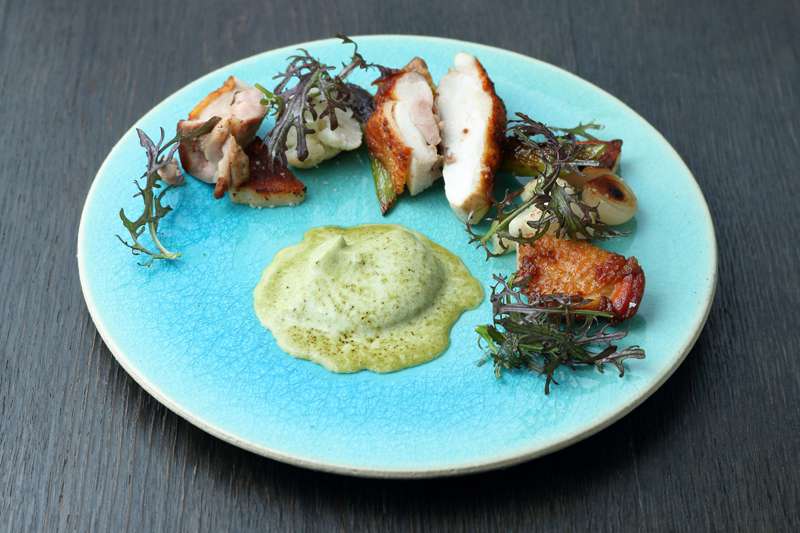 Watanabe, who succeeded in providing "Mitori" at the restaurant, continues to work on research and development with the thoughts of joining the company in mind.
Posted in September 2018 * Information is as of the time of publication
[Balnibarbi Co., Ltd.]
With the key concept of "making delicious food more enjoyable, healthier, and cheaper" for all restaurants, we have 82 restaurants, cafes, and sweets shops nationwide (as of the end of August 2018). By carefully creating each store, we are creating a store rooted in the city that blends in with people's lifestyles. The special menu using "Mitori" is a limited-time menu from June 15th to September 30th, 2018.
Euglena Data
-Which is the feed containing Euglena? ~