Euglena's Philosophy
Sustainability First
(Sustainability First)
Purpose
Make people and the earth healthy
logo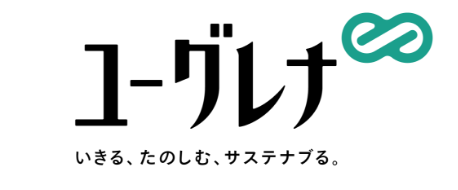 Tagline
Livable, Playable, Sustainable.

「サステナブル」は、日本語でいえば「持続可能な」。
その言葉は、日々生活する上でどこか遠い話、大変そう、めんどくさいと感じてしまいがちです。
でも、「サステナブル」は、もっと身近なものでいいはず。
今日のその食事も、あの会話も。
生活に溶け込めば、「サステナブル」が増えていく。
「サステナブル」は、これからの生き方。
だからこそ、その日常は楽しくあるべき。
単なる概念に満足せず、サステナビリティについて考えながら、具体的に行動していく。
そのひとつひとつの積み重ねが、新しい未来をつくっていく。
Corporate color

Sustainable green

"Sustainable green" expresses the cycle of the earth in a single color by mixing the dark green like the color of the leaves of the evergreen tree with the sky blue associated with the sky and the sea with the everlasting green, which is a symbol of eternal immortality. It contains a wish for a sustainable global environment and the healthy lives of the people who live there.

Wild pink

High-concentration "Wild Pink" with the intention to act without being bound by common sense and stereotypes. Expressing the power to transform society with an inexhaustible amount of energy, the will to promote the social implementation of technological innovation with the belief and thoroughness that sometimes seems crazy, and the innovation mindset. It is included.
What is our idea of "madness"?
A word left for the disciples of Shoin Yoshida, a samurai and educator in the latter half of the Edo period, is "Love madly, and be afraid of Zairyo, crazy." This means that it makes sense to take action from a seemingly crazy passion, rather than just thinking without action.
We use this term as a reference to accelerate the promotion of sustainability with the Euglena Philosophy "Sustainability First" as a stronger intention.